Cape Meares Walkabout and Talkabout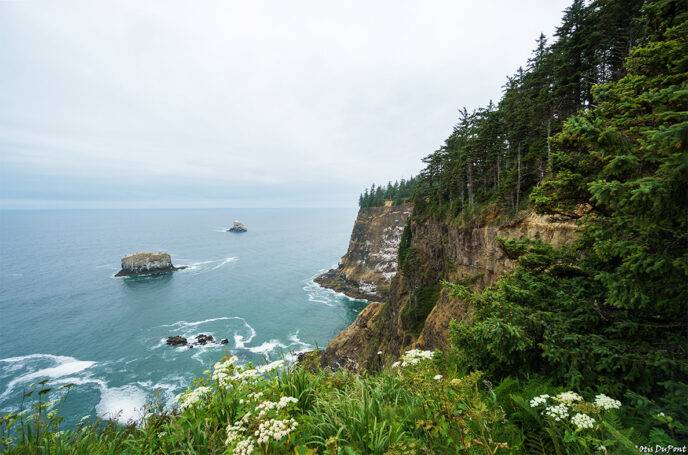 Named after the furry, gossip monger, John Meares
I traveled to Cape Meares, Oregon to check out this quiet, little gem. Sometimes, when out in a place, I like to know why the place was named as it was. Cape Meares is named after the highly controversial, well connected and extremely annoying former British Naval officer, explorer and fur trader, John Meares, who sailed to make conquests in the Pacific Northwest, in the late 1780s. John Meares is the one who named Cape Disappointment, in Washington, USA after he FAILED to find the Columbia River first, in an expedition he set out on, and instead landed on this patch of land he named for that disappointment. He was disappointed because an American Captain named Robert Gray was the first to successfully cross the river bar and got to name the Columbia River, after his ship which helped him cross it. Meares, however, was the first to sail into what is now the Tillamook Bay, which he called Quick Sand Bay due qualities of the mud when the tide is low. Captain Robert Gray was also the First American in this area, which he named it Murderers Harbor, after one of this crew members was killed in an altercation with Native Americans in the area.
John Meares was a known braggart/liar who annoyed all whom he came in contact with. Most notably, John Meares almost brought full on war between Spain and England when he set up his presence for fur trading and buildings, in the Pacific Northwest. The problem was that the Pacific Northwest was where Spain felt was THEIR private territory, so Spain seized all of his boats and material. Meares organized out of the Nootka Sound, Vancouver Island, Spanish territory, and he complained to his Government connections in England, to bring sanctions on Spain, which almost meant war, as Spain and England lined up to battle in what is now known as the "Spanish Armament of 1790", or the "Nootka Crisis".
Spain ultimately gave Meares1/3rd of the financial loss he had claimed he lost, and that squashed the beef, because Spain was not as powerful as they once were (especially since France wouldn't and couldn't back them against British), at the point, plus Spain hated the cold weather or the area they captured anyway. Meares goes and publishes his book called "Voyages Made in the Years 1788 and 1789, from China to the north west coast of America", with more annoying bragging, and current-TMZ-level storytelling, but made the error of highlighting a beef he had with a popular British Naval Captain, George Dixon. Dixon could easily poke huge holes in the shenanigans of Meares, proved Meares to be a complete liar and highlighted how Meares embellished every story he ever told. That beef would end Meares' run, as he got CHECKED by George Dixon, and Meares completely disappeared from his 15 minutes of fame at that very point. Meares would never even make this history books, had it not been for his blunders of almost creating a completely unnecessary major British-Spaniard war for the Pacific Northwest.
Despite who Cape Meares is named after, many people just go to this area only check out the lighthouse. I know because I saw them all Beeline for the lighthouse, causing a 2 hr wait for me to get in (I left). I was forced to then look up the rest of the area to see what was in this Cape Meares, and enjoy its 200 feet above sea level, 3 mile quick hike. I quickly clicked on some pictures on google to see what was in the area and found enough things I wanted to see, so I went to see them. After I got there, I could feel the weather, the mix of the cool but not freezing breeze that came in, the calm of the ocean and sea birds (murres) chirping, quacking or whatever the hell they're doing out there on the distant rocks, it sets a calming mood for you. The largest community of murres exist in Cape Meares. I almost forgot to start taking pictures, I was too busy enjoying the scenery and peace. I started to chat up some other visitors about how there aren't a billion things to see there but how relaxed the place suddenly makes you feel. You can hear nothing but nature. No car noise, no construction noise, no people yelling, you can only hear the ocean and wildlife from this location. The trails can take you down the beaches, through some sitka spruce, to the lighthouse, scenic viewpoint, and more. So you can get a good hike for all types of people, just beautiful!
I think real sense of calm, and you not being in your own head so much, just taking in the experience of nature, is what can be explained for something very funny that I noticed about pictures one will see of the place, if you ever go search for it online. You might also find this happening in your own pictures you take, when you get to this location. Almost every picture I saw, of the place, was of a picture which faces out towards the ocean, with the ocean's line of the horizon. If you notice, a great majority of them ARE NOT PROPERLY LINED UP to be perfectly horizontal with the horizon. LOL Even on the State Park's site it's not lined up perfectly, not even by a long shot! Check it out here. To make matters even more peculiar, when I wanted to quickly throw some pics up for this place, I noticed that almost every shot I took also suffered from this, and I wasn't even paying attention to the horizon either! lol My theory is you're too busy paying attention to the nature and the beauty of the scenic view to even care about taking pics, but you just want to quickly snap something (aka Snapshots). A real photographer would certainly get the best shots but even the people I went with didn't bother with that either.
The power of beauty of the Cape Meares puts you in danger of not taking pictures of it, so if you don't think you'll ever return to it, you better be conscious of this. For example, you can't enter Cape Meares without seeing the huge display for 800 year old Big Spruce, a sitka spruce tree that is 144 feet tall, 48 feet in circumference, and 15 1/2 feet in diameter. I went up to it, I posed with others with it in the background, but I did NOT remember to take pics of it. I was too caught up in the moment. Trust me, that indicates to me that I enjoyed myself and it is a good thing. By the time I did realize that I wasn't actually taking any pictures, I started doing some quick snapshots of another odd tree that can be found at Cape Meares, the Octopus Tree (also known as the Council Tree, the Monstrosity Tree, and the Candelabra Tree). That tree is 300 years old. It's believe that this is a sitka spruce tree that has spread out laterally about 50 feet, and then upward.
I will definitely count this as one of the most relaxing places to hang out, on the Pacific Northwest coast.
As always, the finished products can be found on the main site of www.drunkphotography.com.