College Piping I missed out on performing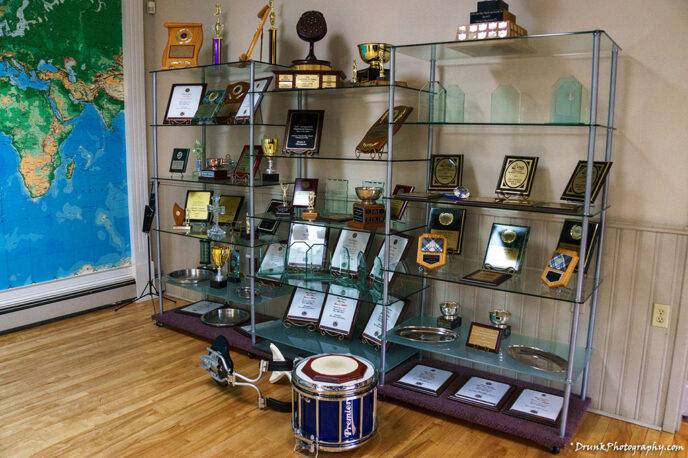 The College of Piping and Celtic Performing Arts of Canada is a school dedicated to teaching Highland Dancing & stepping, Bagpiping and Scottish snare drumming to Canadians. It is the highest ranking piping organization on Prince Edward Island, since creation, in 1990. The Celtic arts are taken extremely serious here, and this college is highly respected, and world renown, as it's previously won various awards for each of the types of the arts they practice. They also currently have 3 highly competitive bands that are active as we speak. They are so well known that they were invited to Scotland to compete, that's some serious piping! I went to visit and got a history lesson about the place, I got an intimate tour and I got a great musical display by Pipe Major James MacHattie and Drum Sgt. Chris Coleman in person! It gets no better than that, folks.
Pipe Major James MacHattie demonstrated the range of the bagpipe, which I didn't know anything about, and I don't know how anyone doesn't pass out from trying to blow on those things. What bagpipers do is extremely hard to do, producing air and blowing like that for such long periods of time. I jokingly asked the Pipe Major if he could play us a little Beyonce, he laughed heavily and then let us know that the bagpipe can only do 8 cords, so they couldn't play it like you would an instrument that can do a full range of sound. Drum Sgt. Chris Coleman ( I swear everyone named Chris Coleman is great on drums) put together a great lesson on advanced drumming, then together they played a great assortment of songs for us. Then MacHattie called in a young lady and explained that the Scottish culture also features a dancing that accompanies the bagpiping, called Highland Dancing. He played in the young lady, and she began hopping higher than Michael Jordan himself! That lady was Marielle Lesperance, who was a World Champion in Highland Dancing! The sneaker company Nike needs to send her an endorsement because she can JUMP!
This was a great snapshot into the life of Scottish culture, even if it came by way of Prince Edward Island and it's Scottish heritage which is still going strong. I can honestly say that I had a truly enjoyable time, doing something I'd NEVER normally get to see, or do! That's how I roll.
As always, the finished products can be found on the main site of www.drunkphotography.com.