When Jamaicans conquered La Nariz del Diablo for Ecuador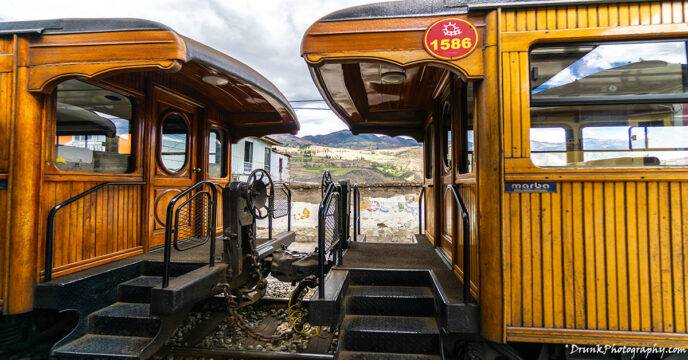 When you hear people say "Slaves Benefited from Slavery" but you see a dark skinned person saying this, or agreeing with it, 100% of the time, it is a Black who is not with lineage from the United States of America, and it's highly likely someone from the Caribbean. They are actively teaching this in classes, in the USA, mainly led by non-Black people (European descendants, Hispanics) and it's flagrantly offensive to make such a dumb statement, but I assure you, many people do believe that just like Indian candidates for US President say that Blacks should be thanking European descendants for endings slavery– and or course to completely omit that they were ever enslaved to begin with. Slaves benefited from slavery?… hmm this kind of revisionist history, supremacy rhetoric is huge today but I've actually heard this a lot, growing up, and there is a slavery downplay when it comes to the the affects of Slavery on Black people, worldwide. As the event was not the same treatment for all Blacks, worldwide, because different European killers had different styles of management, it is unmistakably understood that what those people in the USA did was the worst form of slavery to exist in the existence of man. This is why you'll find no Foundational Black American ever agreeing with that silliness that says "look on the bright side, you got skills from slavery at least, get over slavery…" In fact, you'll find mainly Blacks who are non Foundational Black Americans bootlicking supremacists and their ideology, as they're used to divide the Black community often (e.g., Candace Owens, Kamala Harris, all Black men on Ron DeSantis' education board). However, other Blacks are proud of the skills they received from working with nations like Britain, and Jamaicans are a clear example of this. They tended to fare a lot better than most enslaved Blacks, because of how Brits ran things as opposed to USA, and this also put Jamaican talents to work in Halifax, Canada, which is how some of the first Black got there, along with runaway slaves. The difference in how the slaves were managed lead to completely different views of opportunity in life, and self image. So when I got to Ecuador, I got to see experience something that made me remember that line that "Slaves benefited from slavery" because I also heard that in Ecuador, when visiting to see part of its history that is linked to that "slaves benefited from slavery" argument, and why some Blacks truly agree with hit. I've done quite a few rides through Ecuador, partially by motor vehicle and the rest by crossing the continental divide by train, from Guayaquil (East) to Quito (West), saving money, time, and seeing some great scenery, in the process. You'll mostly only see tourists doing this kind of travel, others will just spring for a plane or if have nothing but time on their hands, just drive. I've done both, but the train was definitely a fun thing to do. I got to the town by the name of Aluasi, first, then later went to Riobamba to do it, and learned the one really interesting story, about a very famous portion of the train ride which passes an area that was almost impossible to get tracks laid through, or rather around those strong mountains. They call this hard terrain the "La Nariz del Diablo" or "Devil's Nose" and many Ecuadorians were scared to death to go to that area, at a point, and for good reason. Why were they scared? Because the La Nariz del Diablo had claimed a great many lives while trying to build the train system there, but also, it's one of those "DON'T LOOK DOWN" type of roller coaster rides in an old-school trolley. Actually, we used to have these old wooden roller coasters, in New England, and the creepy noises they would make were as much a part of the thrill, as the curves you traveled around. That's the same sensation one will experience if they take this train ride in this section. Once you take a seat in one of them and feel the lack of shocks on that trolley, your buttocks will feel it big time. But it will ask you to examine that question, did Blacks benefit from slavery? Jamaicans think so, and that Nariz del Diablo train may add some fuel to this fire!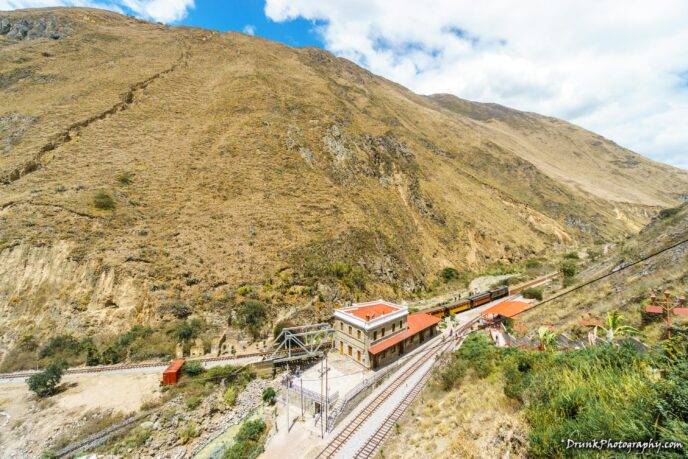 I took that train to La Nariz del Diablo a few times, but I never really thought about the history of the train system, or how in the world they were able to drill all of that mountain to get this track laid in this area. Ecuador is very mountainous, it had to be absolutely hell to get through all of those mountains, cloud forests, rivers, just to lay down the track, and they started the heavy task of connecting the country, via train, in 1890. Hell, that would be a task today, but they did it without all of the modern technology that we have today, which really puzzled me looking at the absolutely insane weaves around the mountains, the train takes. Ecuador has breathtaking difficult scenery in their mountain regions, especially the Andes, and these tracks would have to be laid through the Andes if the train was to connect the country over the continental divide, to make way from Guayaquil to Quito. The Government knew that if they could get this train system going, connecting the lowlands of Guayaquil with the highlands of Quito, money was going to flow! Otherwise, if someone wanted to do business, transporting assets, it took more than 15 days to move items by mules, trying to make the same distance, and Ecuador needed a change ASAP. They knew that Americans were masters of the railroading game, so they hired 2 Americans to lay the groundwork. President Gabriel García Moreno in 1861 instituted the Ecuadorian Railway. They did a good job getting around a lot of the early line, fairly easy, they had this in the bag, or so they thought.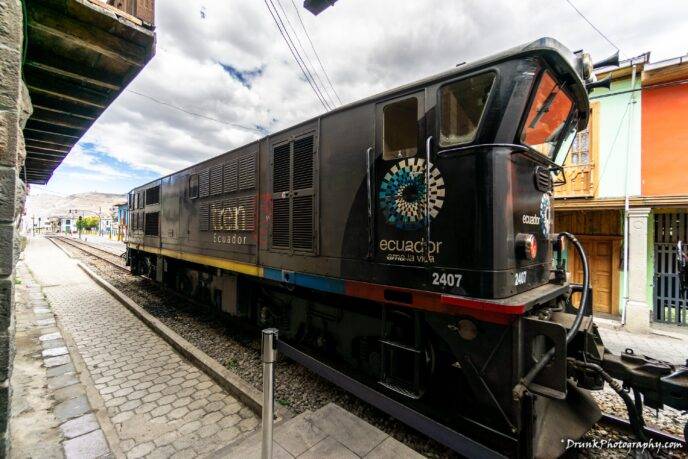 As the building of the railroad progressed, the train project reached its greatest accomplishment, but also its most complicated section, when it comes to this area of Nariz del Diablo, just after Simbabe. There was no way through the Andes mountains, back then, the tracks would have to be created in a way to wrap around the mountains, hugging tight to cliffs, but I learned that that was no easy feat. Also, the Andes are very LONG, stretching the whole length of the country. That was crazy to think that they would make it through these mountains. If you go up to the high parts of the track, high up on the mountains, you can experience some crazy roller coaster ride experience, in this area, because you can DIVE 1500 feet in less than 8 miles of track navigation, in that train. The train tracks hug tight on the mountains, razor-thin passages are cut in the sides of the mountains, you can feel the wheels on the rail and if you couple that with looking out the window, La Nariz del Diablo is beautifully frightening. When you get on that train, you look down, it's SCARY!!!!  There is no space between the outside of the track, and the end of the cliff! If that train jumps the track, at any point in the Devil's Nose area, you're going to plunge to your death in that train. It was very scary to be on that train, and another oddity was the way we navigated a couple of those mountains. We went as far as we would in 1 direction, then the train came to a halt. I thought something was wrong or we were stuck. Then the train reversed down some other track which took us downhill more, stopped, and then went forward again (still going downward) but on a completely different track, rather than 1 continuous track taking us where we needed to go. They call this technique to navigate the mountain, a "switch back". Apparently, the creators of the track, long ago, knew they couldn't get up and down the side of this mountain without this technique. That's how difficult it was to navigate this area, you had to have switchbacks located around the area to get up and down it, there was no clear way straight through.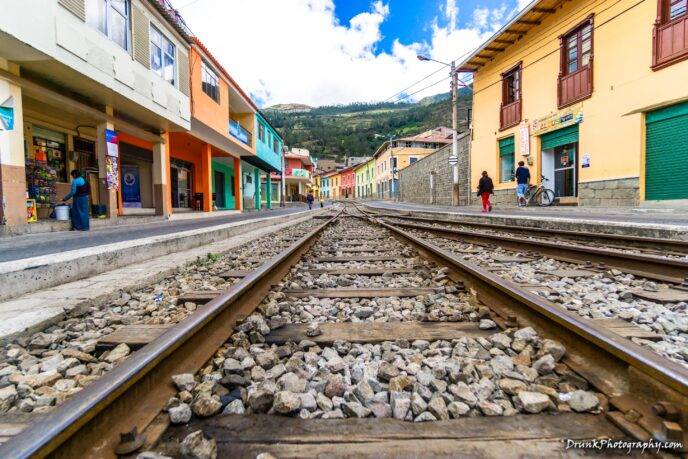 So I wondered, "how in the world did these people of Ecuador build this crazy train ride, especially in this section of La Nariz del Diablo?" The answer was "BARELY", and Ecuadorians had some big help there to build the attraction we now know of as La Nariz del Diablo, from people who were not Ecuadorians at all! If you know about the mass migration of African descendants (especially Jamaicans) from the Caribbean, spreading out in the 1850s, to places like Cuba and Panama, you can trace back the history pretty clearly and I have many friends with these backgrounds. But how did Jamaicans get to Ecuador? There is a reference to these times, in an old Jamaican folk song by folk legend Sam West called "Nobody's Business". This song makes reference to a guy named Solomon, who just up and left for Ecuador:
Nobody's Business
Nobody's business, business
Nobody's business, business
Nobody's business but my own
Nobody's business, business
Nobody's business, business
Nobody's business but my own.
Solomon Grundy gone a Ecuador
Lef him wife and *pickney out a door
Nobody's business but me own;
Solomon Grundy gone a Ecuador
Lef him wife and pickney out a door
Nobody's business but me own.
If I married to a naygarman
An' I lef' him for a Chinaman
Nobody's business but me own
If I married to a naygarman
An' I lef' him for a Chinaman
Nobody's business but me own.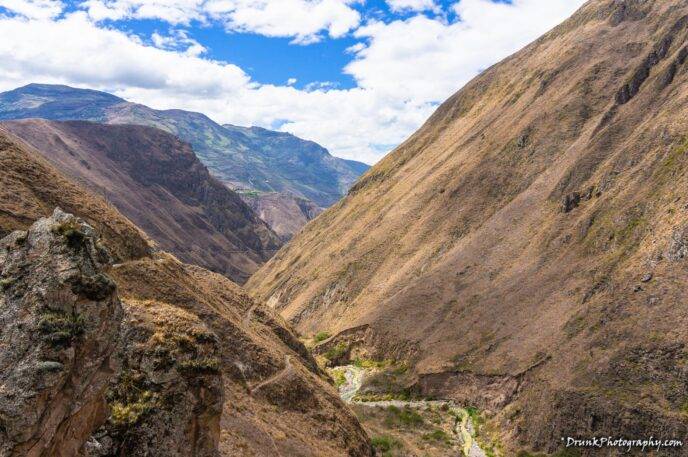 You'd wonder why in the hell would Solomon leave to go to La Nariz del Diablo, and why just bounce on his family like that? It makes no sense until you realize that a lot of Jamaicans went looking for work at this time. Remember, in the USA, African descendants were still enslaved by USA by 1850s, trapped in the USA, and couldn't go anywhere, while a lot of Jamaicans (a British colony and Brits got out of the slavery business before Americans) were able spread out to Latin America. Ecuador, it turns out, was a draw for Jamaicans looking to do work, and what better project to work on than a project that apparently no one local wanted anything to do with and likely, locals couldn't handle the weather of the area, considering the work the strenuous work which had to be done. The Andes always had/have ridiculous periods rainstorms, which leads to landslides, so back then, that was a huge problem if one was hoping to build anything in them. Put that together with dynamite explosion accidents, you could see a recipe for disaster coming. Now the thing about all of the mountain rocks falling, structures caving in on people, the prospect of building in the mountains was CRAZY. Who the hell would want that job?
In 1890, Ecuadoran President Jose Eloy Alfaro gave contracts to more than 1,000 Puerto Ricans, 3,000 Jamaicans, and a few other people from other Caribbean islands, to start the hard work that only these groups would dare do, as they headed to Las Guayas. Las Guayas has the kind of temperature very similar to the Caribbean too, so it's something someone from the Caribbean would be comfortable working in. Jamaicans had almost 40 years of experience on railroads by this point, from Jamaican railroads, getting training from Englishmen, to do such work in Panama too. The Ecuadorian Government gathered all of these foreign workers because these mountains were tough, and they'd have to build up, around and down the mountainsides, which was considered an impossible task then. The tallest, hardest mountain to get tracks up and on, La Nariz del Diablo, was the task to conquer, and the legendary name has other significance. People believed that the mountain area was cursed, and many locals were scared to go there. Why? Because of the pool of Caribbean workers who came to build this in this section, more than 2,500 of them DIED constructing the railroad! That's a crazy fact about the railroad, and Devil's Nose was officially a cursed area the people want to stay away from in the first place. The feat accomplished by the Jamaicans, and others, hasn't gone completely from the history books, as Ecuador has many references to La Nariz del Diablo in many tourist adverts, as a MUST EXPERIENCE EVENT. I saw it advertised as such, didn't know the history prior, and set out to see the location, myself. These workers were skilled, but the terrain was ferocious, yet they prevailed, to deliver Ecuador its most costly project ever, the rail which finally connected the country. However, that weather has always been unpredictable, especially where they laid that track, and too many parts of it kept falling apart, constantly needed repairs, and it was just too costly to maintain.  It's up and running now, but most people would just prefer to drive or fly, in modern times. Still worth the ride on the train, if you ever make it to Ecuador. It's a MUST do, but now you know the historical context of it. These 'skills' that Jamaicans were taught helped Jamaicans move around the world, getting employment when Foundational Black Americans were still enslaved and living in Jim Crow oppression, something Jamaicans never experienced, thus look down on Foundational Black Americans. Of course each group's outlooks are completely different, each faced different fates, but to say that Blacks benefited from slavery, that's like saying every oppressed groups should thanks the oppressors for being able to provide a living for their families, today. I'm not so sure anyone can really live comfortably with such supremacist ideology that suggests Blacks are better off where they were left than were they were found and should be happy to just have a job, instead of being enslaved again. Despite many agreeing that Blacks benefited from slavery, go up to a Jamaican and tell them "you're lucky you were enslaved" and see what happens to you.
As always, the finished products can be found on the main site of www.drunkphotography.com.