What I accidentally stumbled upon while jogging in Montevideo: Memorial al Holocausto del Pueblo Judío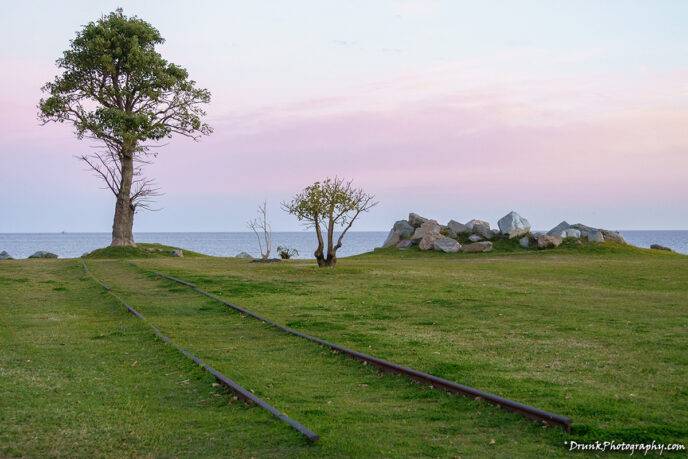 I was in need of a workout because in Montevideo, you're going to eat like a pig since everything is super cheap if viewed from the perspective of a foreigner. I went for a run on the famed La Rambla, a long boardwalk setup which spans the coast of Montevideo. La Rambla features everything from beach area that you can hang out on (and I did that although it's rare for me to do so), Rugby field, the land where people practice Soccer, a lighthouse, a Gandhi statue out of nowhere… La Rambla is rich in eye candy and rife with things which are guaranteed to peek your curiosity. I saw so many things that would normally seem out of place until I realized La Rambla is a huge, outdoor, cultural center!!! After that first run, I started to keep an eye out for more things that I could explore when I returned each day for subsequent runs, but I didn't see this particular offering, until the last night in Montevideo. I have not run the whole length of La Rambla but elected to this particular night. I had just started my run from the east side, and a few minutes after starting, a particular sign really caught my eye, and I HAD to interrupt that workout to figure out what was going on there. This night, I was ready because I remembered and fastened a pack to myself, where I put my camera.
What I had accidentally stumbled upon was a memorial dedicated to the Holocaust, Memorial al Holocausto del Pueblo Judío. If you're just flying by La Rambla, you might not know exactly what's going on there. The memorial was designed and created in 1994, by Gastón Boero, Fernando Fabiano and Sylvia Perossio, landscaped by Carlos Pellegrino, per the documentation about it. I was trying to understand what they created there because it's something that you see from the street of La Rambla, but have no context about, and you can't see the whole presentation from the street, you actually have to make an effort, as I did. Now I HAD to investigate further, because I was completely confused as to what I was looking at, and completely forgot about my workout. I saw these trees, wood bridges, rocks, plaques, gravestones, and some train tracks and I knew it was definitely something DEEP was going on there! When I saw those train tracks, I immediately knew what they stood for and now I REALLY had to fully inspect this place from head to toe! The train tracks are a reference the trains carrying Jewish people (along with Polish people who were the original people sent there, other minorities in the area, Russians, and Jehova's Witnesses) to internment and extermination camps of Auschwitz. Remember, slave labor was also happening there, which generated a LOT of money for Nazis. So, to further put that train track's significance into perspective for you, of all of the killings of Jews, 1 out of 6 deaths were at the hands of what happened in Auschwitz, which spanned 4 and a half years, and took roughly over a million people's lives. Man, my emotions were all over the place as the art pieces started to sink in because the info I knew of WWII started clicking. There was so much to unpack there, in that small space, it was well thought out.
When I was looking at the signs there, it wasn't immediately clear that there was MORE to this memorial, but my interest was so peaked that I couldn't turn back at that point, I needed to see more. One needs to venture down closer towards the ocean to see the other great part of this memorial, which features this stone walkway, which leads to a "wall" with a cut-out section in the middle window, signifying a "windows" to the ocean, but also a severed wall. You can just barely see that from the street of La Rambla. The stone walkway is the way to the "plaza". The shapes of these walls are also symbolic and artistic, as they cast shadows depending on the location of the sun on them, making really dramatic contrasts to the scenery. That is some artistic light play, casting the shadow. That wall is clearly referencing the "WAILING WALL". Walk through the "window" and on, there is the wooden "bridge of doubt" loosely translated, and when you go there you see tombstones placed there to further get the message of the art pieces. One of those stones is a reminder story about a young, female, Holocaust victim from Montevideo, who went to Hungary with her family in 1945, only to be snatched up and ultimately was killed in Auschwitz. Wow! That's the power of the piece. The other stone has an inscription from Romanian-Jewish author and activist Elie Wiesel.
People tend to forget that many Jewish people fled to other parts of the world, due to WW2, if they were lucky enough to get out. A lot of Jewish people fled to South America to escape Nazis, and/or to begin a new light after WWII, and ironically enough, so did a lot of former Nazis when the war was over, due to being war criminals who didn't want to be prosecuted or found. The Jewish population in Montevideo is mostly, originally of Balkan Sephardic origin who migrated there sometime after WWII, while neighboring countries have mostly Ashkenazi Jews. The community wanted a reminder for the world, to take notice of such violence and atrocities perpetrated by the Nazis, and how we should shun those who seek to duplicate their disgusting antics. It's a great cultural offering by such a small community of Jewish folk (I believe just over 10,000 people as of 2017) in Montevideo. The only thing is that if you blinked, you'd easily miss out on a great thing.
I didn't feel like getting on my phone to look any of this up, at the time, because I knew I'd go down a rabbit hole and never go on about my tasks. Curiosity was killing though so I couldn't wait to get to a rest spot where I could go research what I just witnessed. Man, I only intended to go to La Rambla to lose fat, and I ended up gaining a humbling and enlightening experience! Righteous!
As always, the finished products can be found on the main site of www.drunkphotography.com.