My Maligne Canyon Trailhead blaze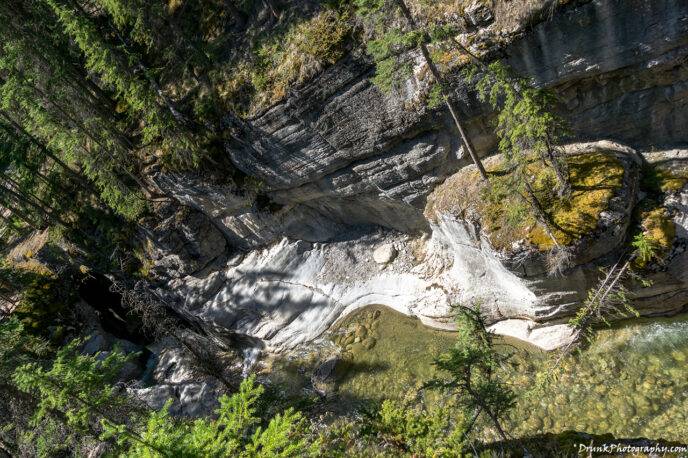 Maligne Canyon: a nature lovers' dream
Maligne Canyon Trailhead is a set of trails that you can do, from easy to hard, and see some beautiful and scenery, as you make your way through the Maligne Canyon, Jasper, Canada- part of the Canadian Rockies. Jasper is really known for the hikes you can do there, so you have to do at least 1 of the hikes, and if you're not big on hikes or have kids attached to you, but still want to do something, then this is the hike to do. It's a simple hike, which will only take you at a max, 2 hours as it's only really 2 and a half miles and that's from the parking lot to about the 6th bridge.
The canyon dips to about 460 feet deep at it's greatest depth, and it's a scary drop when you look down in some places. For this trail, you're more or less walking along the path and it bends to the Maligne River's shape, which will taper off into the Athabasca River, so that's a good walk you'll get. The canyon splits are not that wide in most places, so when you're looking around, be sure to check inside and around some of those crevices. There are some interesting things in the twists and turns that you're going to miss if you're not really checking for them. The people who went with me were shocked at the things I spotted while out there, yet they didn't have any of those in their pictures, because they weren't really as fascinated as I was with all of that natural limestone beauty, scary cliff drops, the occasional waterfall and since I went this past spring, the SNOW that was still buried in some of the crevices. There is also wildlife all about the area, but I didn't see any, and that was probably a good thing, considering this chart I took a picture of, from my guide (see inset pic).
All of those spectacular crevices, that I was checking for, were all created post-ice age melting and all of that land is under water then, in Canada, 365 million years ago! It's called the Palliser Formation. When it was underwater, it was completely lined with plankton (algae, bacteria, archaea, protozoa for example), and plankton doesn't move underwater, it's just sedentary wherever it plopped down and grows. This formed the multiple types and layers of limestone that lines much of the Canadian Rockies, and the powerful, flowing streaming of water over that limestone created these sharp turns and twists to the canyon. Awesome!
I showed people these pictures and they were like "MEH" to the hike, but you really need to get up there and see it all for yourself before you pass judgment. You also need to be a nature lover, because I saw some other people just blaze through the trails and they weren't even looking left and right to see its magnificence. What wastes of human skin! I tried to make the pics as sexy as I could when taking them, to show to my people back at the camp, who didn't want to do the hikes, but ultimately I convinced enough people to go the following days. It's trying to convince Internets to go, that's proving to be difficult. I implore you, get to Jasper and experience all that his area has to offer.
As always, the finished products can be found on the main site of www.drunkphotography.com.