Surprised by Surprise Corner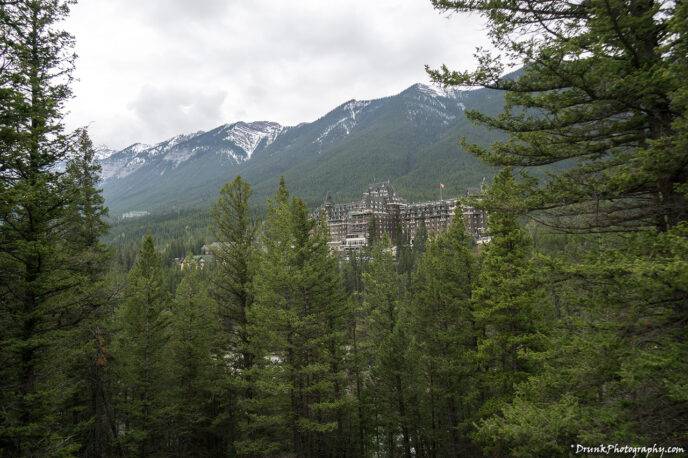 Surprise!
I was out doing a good hike-walk around Banff to scout the Tunnel Mountain area, and while walking back to town, I somehow got turned. I just figured that I'd follow the Tunnel Mountain Road until I find something that looks like a town, and I shouldn't be that lost. There wasn't a damn soul in sight, no cars were coming through, nothing, so I couldn't ask for directions and left the phone back in the hotel. I started looking for signs to point towards town, and I stumble upon a sign which read "Surprise Corner Viewpoint".
I get closer and I see this cool view of Surprise Corner, past the road, overlooking what turned out to be Bow River and Bow Falls and the Sulphur Mountain crescent in the background.  I suddenly noticed this huge building positioned in the middle of the trees, the luxurious Fairmont Banff Springs Hotel, aka the "Castle in the Rockies".  This hotel is a legendary hotel which has housed many famous and important people. It's officially listed as both a National Historic Site of Canada and a UNESCO World Heritage Site, as it's been around since 1888.  It was originally created to make Banff a tourist town as it was planned to be right where the Spray River and the Bow River meet at a fork.  This was the idea of William Cornelius Van Horne, to use the Canadian Pacific Railroad (CPR) (of which he was a major part of) to get there, which would, in turn, get people out to experience the Canadian Rockies. Now he increased CPR travel and Banff travel in 1 shot, with that hotel. So it became a must-see location in North America until the original hotel burned to the ground (all wood created). This beauty that is there now, is the rebuilt version, and just look at that picture, you know how HUGE that Hotel has to be to look like that from so far away?!!!
This viewpoint is aptly named! I was completely surprised to see this scene out of nowhere, it was beautiful. I just gazed out on the land for a half an hour and took my time enjoying the scene as I walked back to town. Very calming wind down to a good hike, listening to the Bow River running sizzling calmly, in front of me. Fully cloudy day and still it was a great sight to see.  I just sat on the cliff, took these few snaps and just hung out for an hour. Pure euphoria!