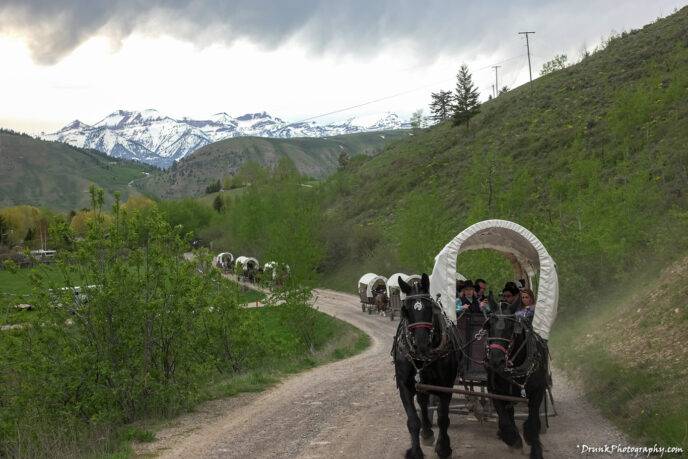 Bar T 5's great Cowboy theater in Jackson Hole
While in Jackson Hole, I went to a place that I thought was going to be the average bar, because the name contained the word "bar", but I'm so glad it turned out to be nothing like that. What I experienced was even better than going to some bar in a cowboy town. I went to Bar T 5, something I that don't know what the name signifies, but I can tell you that if you are in Jackson, Wyoming, you are in for a very fun and entertaining couple of hours. You arrive in an area where they gather you up and start to file you into a bunch of covered wagons. There must have been over a dozen covered wagons, which can fit 20 people in each, easily. The covered wagons head up into the hills, over a series of hills that wrap the adjacent mountains, and cuts through the woods. If you just look out of the wagon, which I knew to sit in the back of if I couldn't sit at the front of the wagon, you can see some pretty landscapes as the wagons move about in unison.
The ride begins with a nice, smooth and slow strut up the hills, then the scene becomes slightly shaded because you go through the forest area, and the sun disappears. The whole mood is relaxed at this point, people are leaning back, calm, relaxed, and then out of nowhere, their heavy horse foot traffic that didn't sound like it belonged to the horses of the covered wagon. The sounds get louder and then some crazy man on a horse is seen banging on our covered wagons, it made people in my wagon go crazy because they were scared out of their minds after being so calm. It was an Indian attacking our caravan! Then came another one, it scared the hell out of people because no one knows if that was part of the tour or what, no one had a damn clue what to expect or what was going on. I looked closely, it was white guys with face paint, so I quickly figured out what was going on. It was to let us know that's what would happen if we were back in the days of the caravans and how the caravans would be attacked by Indians. That was pretty cool because it scared the hell out of people.
So at this point, I realized that this is actually a setup where it's live entertainment and these guys were actors who were going to put on a show about the old Cowboys vs Indian days. So they have a hero cowboy who is pretty much a klutz and who was pretty funny and LOUD as hell. The would change off the Indians and defend the audience against the attacking Indians who had attacked the caravan earlier. Then he could come back to the show, where we were all seated and eating a cowboy's dinner, which was very good. The hero came to the gathering, saw all of the people, and then starting hitting on women in the crowd. He fell in love with a woman from New Jersey and she killed him with her good looks, so he said.
Then he went and fell in love with the woman and proposed marriage.
To highlight the night, we were treated to a live concert that was very festive. Very good time as had, and it was about 2 hours total! Can't beat that. If you're in Jackson Hole, definitely know that's the pace to be!
As always, the finished products can be found on the main site of www.drunkphotography.com.