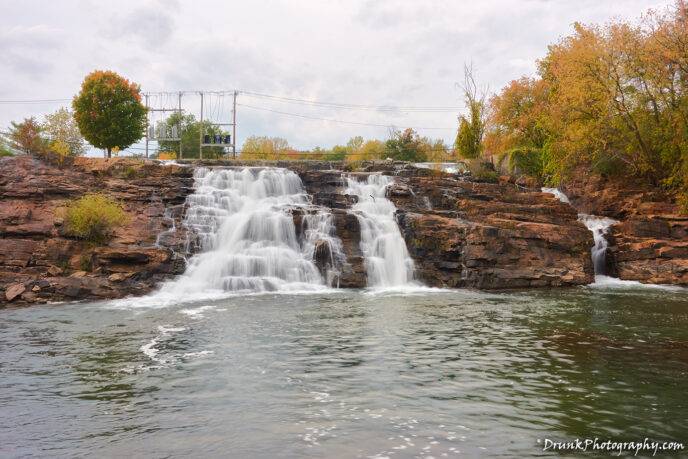 The Lake George / Essex County, New York area is sprinkled with little gems, here and there, and the town of Ticonderoga, New York, USA is one these. Where the actual Lake George (the body of water) ends, it narrows into a river called the "La Chute". La Chute (French) translates into "the fall", in English and I didn't understand why the hell they called it "the fall". What?  I looked up and down and didn't find anything that the name referenced, initially, but one would expect that some sort of waterfall would be present. On google maps, I saw no reference to any waterfall and there was nothing but towns along the sides of the river, so, I was confused. I did see a walkway though, that turned out to be a path that lets you walk along the river's side, which brought me to a nice little sweet spot.
Continuing northbound, from Lake George, I followed the river to that quaint town of Ticonderoga, because at that point, hunger was taking over. Unfortunately, everything in town was closed, because of the dreaded Corona Virus. I got out to try to enter an eatery, and after realizing that it was closed, I could hear the roar or something that sounded like a roaring body of water. I checked the map and still didn't see any waterfall on the map, but it surely sounded like some big body of water dropping from somewhere. Couldn't figure out where that water was though. While still viewing the map, I noticed that this La Chute river connected Lake George to a series of bays, which ultimately connects it to Lake Champlain, a huge Lake separating part of New York from Vermont. Now it was time to park and find a way to this river, in search of that sound of water crashing.
I studied that map for at least 10 minutes and then stumbled on the meaning of the name of the town Ticonderoga. Turns out the name originated from the Mohawk Nation, and its translation means something that "is at the junction of two waterways". Well there it was, right there in front of me on the damn map, the town connected a series of horizontal waterways to each other, via the La Chute river. OOOOOOH (AHA moment). The map pointed me to a park called Bicentennial Park, which looked like a park out of some town from a TV series adaptation of a Steven King novel (in a good way). It was beautiful because there was basically nobody there enjoying that beauty!  It was like we had the whole park to play with! And as soon as the car was parked, off in the distance, I could see this elusive waterfall "LA CHUTE"!
As an extra bonus, while walking down to the waterfall, a covered bridge was spotted! If you look on Google, it is not even listed either! What hidden gem there! Neither the waterfall nor the covered bridge is listed anywhere on Google, really. After some searching, I found that the locals called the bridge "the Kissing Bridge". I'm so glad that my curiosity got the best of me and I was able to enjoy the view of this town I ended up in only because I overshot Lake George, by mistake, got really hungry suddenly, and decided to push further despite that. Great memory!