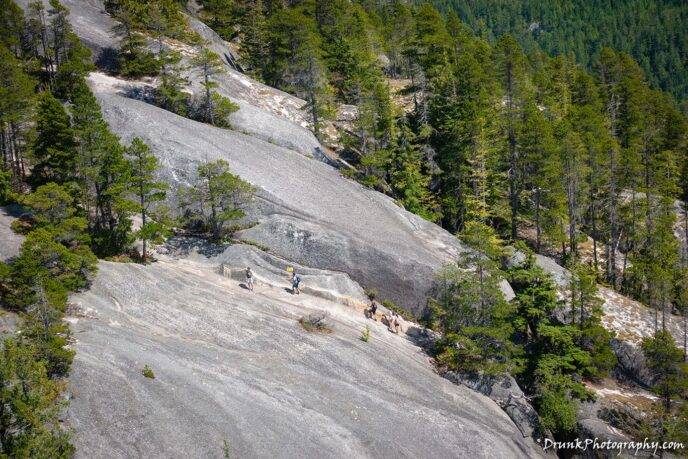 When I can, I like to get a quick, good hike in, to get the body in shape, get the juices flowing and challenge this body to do better. It's one thing to go fight in martial arts, play basketball, train in the gym, but all of that training does not exactly translate into doing hiking. In fact, if you are doing a lot of these activities, your knees might not be the right condition for something like this, even though your cardio is good to go. Hiking is a different animal, especially if you're someone with a muscular frame. "The Chief" (the First Nations' language Stawamus' translation for the name of the mountain), bka Stawamus Chief, is a nice hike to give yourself the perfect challenge for all levels of hiking, located 1 hour north of Vancouver, in the Squamish's Stawamus Chief Provincial Park. It is not a serious as Garibaldi mountain, but it is the only one I could find people not to scared to go with me on, so Stawamus Chief it was. 😒
On the way up, you can find multiple things to look at and enjoy if you need to take any breathers too. Stawamus Chief has 3 peaks actually, there are a series of mountains to go to. I didn't know which of the 3 I was going up, and actually didn't know about the others until I made it to the top of the one I was currently on, and looked north where I saw an even taller mountain. So I know I definitely need to get up those, I just didn't have time that day. But the one I did was the one with the biggest "payoff" I was told, so I did it.
The reason Stawamus Chief is a good challenge is that you get away from the typical hike that is just a straight walk around some trails carved out for you. Stawamus Chief has a couple of level changes you will need to get past to continue on the path. For instance, you will get to a point with the walking path has seemingly ended. If you look straight ahead, there is a LADDER, suggesting to you that if you want to make it all the way to the top, you need to make it past this ladder! So yup, continuing on meant to climb that ladder and continue to make it up higher. You can't even see the top of the mountain at this point because you are buried in the canopy of trees and need to make it about a good 6 kilometers (~4 miles) in walking/climbing 1 direction, to make it up 610 meters above the town of Squamish, and then you need to also go back, so that is 12 kilometers (~8 miles) to do a round trip hike, which would take the average person 6 hours to do the whole trail.
When you get close enough, you will need to make sure you have some good shoes on. You need to scale the side of the Stawamus Chief, which is a bald-face rock foundation. To change levels this time, you have to use a set of ladder and chain systems to navigate to the higher parts of the mountains, then you will need to be careful climbing the rest of the way to the top of the mountain, at least on a slippery day, because I watched people bust their asses on a clear, sunny day, so, imagine a wet day. It's extra slippery because each peak's top 4th is all granite from over 100 million years ago, from the Cretaceous period! That part of the course was very beautiful for me, because I was certainly looking forward to that exciting workout, which someone who practices grip work and grip fighting will easily excel at, as you have to pull yourself up these things to progress. If you're winded by this part, you need to turn back! Although it was sunny out, it was raining the day before, and because of how the area is tucked under the canopy of trees, the ground was still soft/damp. After seeing all of these possible challenges to the trek, I saw why they call Squamish Canada's "Adventure Capital". So it has something for everyone and trust me, there are quite a few places where you will need to butt-scoot in order to navigate too because one wrong move and you'll plummet to your death!
When you finally get to the top, you will be rewarded with the most gorgeous view of the Howe Sound, which looks exactly like a post card. Man, that was really breath taking to see this scene. It is in these times that you realize with the burn you feel in your legs were all worth is because of the eye candy you see in the end! We had a picnic up on the top and then forgot that we now needed to go back DOWN the damn mountain and back to the trail. Ok, THIS is the hardest part to me, not going up. Going down is HELL on your KNEES!!! Sure, your great cardio got you UP the trail and mountain, but now how are your muscles and limbs? My knees are super shot but I pulled it off. I got up there, took the couple of shots you see here… Oh, did I mention that I had about 80lbs of camera equipment and water on me the whole time in a backpack? MORON! 🤣 Shut up, it was ALL worth it for THAT view! Garibaldi is next, for sure!
As always, I try to get some photos in while hiking, and it gives me an excuse to weigh the bag down with camera gear to practice photography. So I went there with intentions to quickly snap some challenging shots where there isn't much light piercing the canopy of the trees. So it was not just a physical challenge here, it was a photographic challenge for myself. Along the trail, there are times you will some some small waterfalls, some cute wildlife, so of course you have to pop a few pics and keep up the pace at the same time.
As always, the finished products can be found on the main site of www.drunkphotography.com.