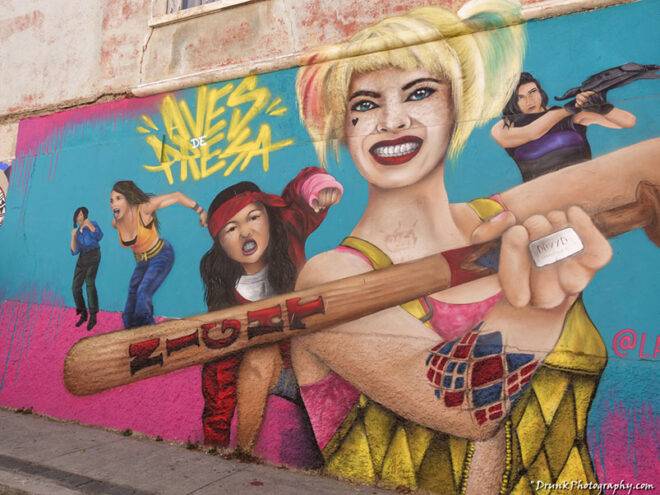 Va pa Valpo
Just over 75 miles (120 kilometers) north west of Santiago, Chile, is the port city of Valparaiso, also known as Valpo. It's also known as the "Pearl of the Pacific" and officially recognized as a UNESCO world heritage site. Valparaiso is facing out to the Pacific Ocean, and from the top of the hills you can see the lively port area. Valparaíso was originally created by Spain conquistador, Juan de Saavedra, in 1536. Valparaiso has always been a very important city for Chile, as it was the most important ports for centuries, from colonial times to current times, where it's being used for current day port business. It used the be the richest town, back when trade with Europe was bustling, until the Panama Canal came to be, in the early 1900s, and everything dried up almost completely.
Rich people fled immediately. Valpo is often an overlooked destination by many people who go to Chile. That might be because you would need to travel more than 2 hours to get there from Santiago. I've talked to multiple travelers who have been to Chile and they said they had never even heard of it. I had been to Chile 3 times, in total, and didn't even know what was really over there until this last time. Sure, I heard about Valparaiso, as the major port city, but I didn't want to go see the Navy or boats, so it did not register in my brain as important. That changed when I was browsing for local eats and saw an advertisement to see "art". As I started to review the "art" a little closer, I noticed that the art was not on a traditional canvas. As I studied the pictures in the advertisements, I noticed that the art was outdoors! This was street art!!! I love Street Art! As, I started to flip through the text of the advert, I learned that it was a walking tour through Valpo. Oh yell yeah! I go looking for an official tour, but the one that the hotel offered was canceled. The hotel clerk told me that it might not be a safe time because it is a little unpredictable, but that if I wanted to go, I could probably get on the Internet and get a more local tour if I absolutely insisted on going. Well, DUH, of course I'm going to go get a peak of whatever the heck is out there, and risk whatever the hell he is complaining about, just to get some pictures. LOL Valparaiso is considered a very hot spot for art, and people come from all around the world to witness it, especially as of late. I knew I was on to something when I found it listed. But the way it was being talked about was like I'd be seeing this picture below.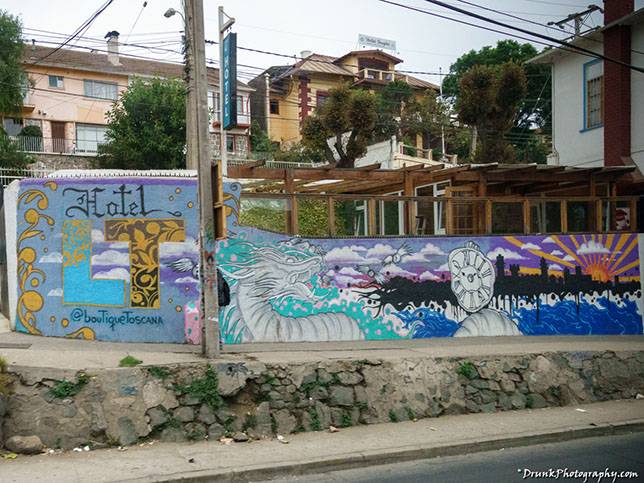 The concern that the hotel clerk was referring to was THIS HERE . Chile went through a pretty ground-breaking time, with a lot of protests, that broke out all over Chile. For Valpo, that was October 18, 2019 and it's barely recovered. They started at the end of 2019, but they continued throughout 2020, even as Covid started to ravage the world. Covid was not the concern, at that time, it was that they could not guarantee that people would not get robbed in Valparaiso, while doing these walking tours. In my mind, the walking tour was something that would not be too affected by riots. They would only need to walk us to a very public area where everyone could see us, what is the harm? Well, the Chilean government was so scared, based on how must structural damage was happening all over the country, that their famous "Flower Clock" had to have its historic hands removed, because anything historic was going to be destroyed by rioters. Someone told me that story about the clock, and on the way to Valpo, I stopped at the Flower Clock and sure enough, the damn hands of the clock were gone! Since I last visited, the people have calmed much and the hands have indeed been returned, as I'm told by a friend of mine there.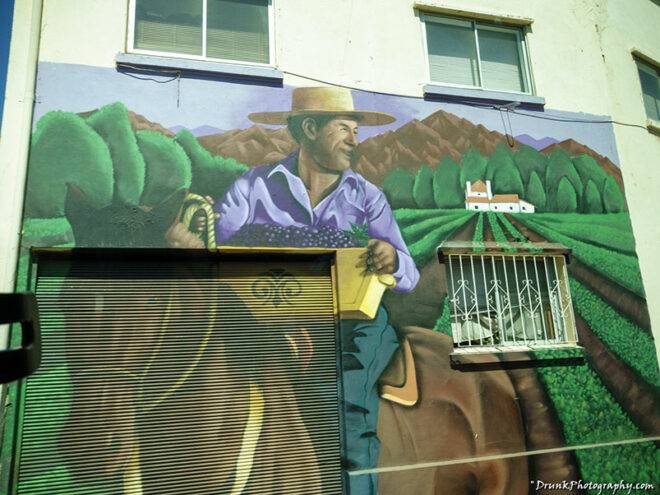 Multiple Europeans, also on the tour, were thinking that the tour was just going to go around and look at messy tag graffiti that has no real flavor or design. They were complaining that it was just praising vandalism, which I was confused about because I know they read the brochures as I did, but they were not getting it, initially. One guy kept complaining about property damage, on the way up the hill, and he was not pleased with what he was seeing. To him, the street art symbolize poverty, he did not see it as creative art that was actually made legal to do in Valpo. What these people were talking about was definitely seen, here and there, it was lifeless taggings. I tried to convince them that the best was yet to come, and that we were only seeing things that are not put up as art pieces, rather just likely kids tagging, some of which was just anti government scribbles. Then i pointed to this picture on the left which was a beautiful sunset and ocean view on the beach. Absolutely stunning. They were suddenly impressed, and I told them that we need to go find things like this all about, and not the corny graffiti. I didn't let the people from Santiago tell me about any horror stories and I wasn't going to let this group get themselves out of the zone. But as soon as they were first saying this on the way, we did see the BAD version of street art, which is just tagging, is boring, and doesn't WOW at all.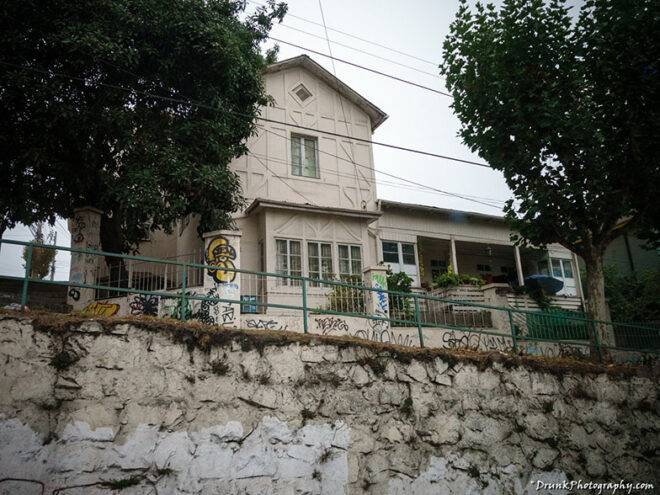 So, it began to sink in that people were really just talking about structural damage, and what I feared was that rioters would go and destroy that art that was on the walls with defacement of the beauty and expressions of art on the walls. I've seen many times that rioters will tend to destroy things that are important to their communities, as well as to government and business, during my stay in Chile. I was praying that I wasn't traveling all of those damn miles only to see everything destroyed, and a lot was destroyed, but it was mostly businesses in Valpo. I normally don't like to spoil a target destination by doing too much reading about the place, so that I don't completely spoil it for myself, but this time I had to check that play, understand the layout and see what areas I could maybe target and break away from the tour to get to see. If you make it to this area, understand that this is a a huge area so likely you'll need a few days trip, so you can take up a hostel in the area so that you can see it all. It's worth it, trust me, people come from all over the world to stay here.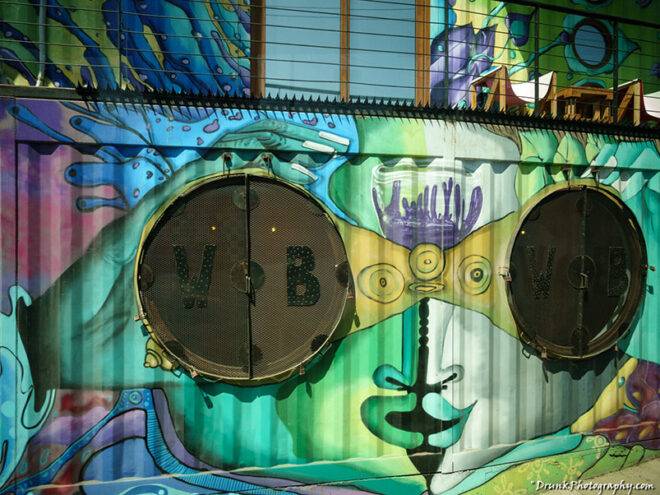 After arriving at in Valpo, I asked the tour guide why the streets were so EMPTY. I mean EMPTY EMPTY not 1 local was out there and no other tours of people were out there but my own. From what I read, the city was completely vibrant and filled with liveliness, but I saw NONE of it. Why? Well, after all those riots, where more than 20 different major banks were firebombed by rioters, Valpo made the news as being one of the most violently impacted by rioters. After arriving, the tour bus quickly zoomed by and took a few side streets detours. The guide les us know that hundreds of local businesses were burned and looted completely. The rioters left a lot of people, especially older people, with lack of hope. The tour guide said that people were also robbing tourists, and that is the reason we didn't see as many people as we should have seen too. It's is called "paying a tax". Great! Lol Tourism is the heart of Valparaiso's local economy, and that was destroyed. Many hotels were hit by rioters, so the best way to see Valparaiso was doing day tours, and then I understood what the hotel clerk was worried about.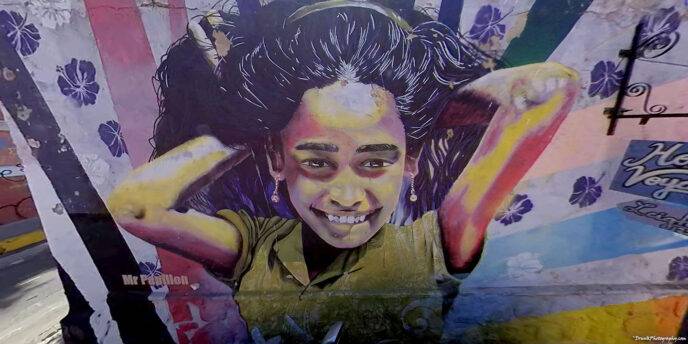 The major stores were closed, but luckily there were the local people's stores. They didn't see to be the ones raided by locals, thank God. The riots cost Chile more than 2 billion dollars US!!! I don't want to say people were not happy to see us tourists, but I will say that the riots have dampened the moods of the people. When people told me about Valparaiso, they mentioned parties and music in the streets and all that. That was not anywhere to be found. Well not exactly true, actually, because there were some street artists performing in 1 place, so I went to follow the music of some small gathering and caught a vibe. But largely, cars went by and you didn't know if someone wanted to strike you down or what. People were not patient with us walking through the streets, trying to get to point to look at, safely. After a while, colors of the area started to pick up, and some areas kind of reminded me of Jellybean Row, with some interesting-colored buildings scattered here and there. You could definitely see that this was a bustling town at some point. Another hidden feature was walking up and down hills, which made for a nice little hidden workout. I realized, halfway during the tour, that my calves were starting to burn, and then I looked all the way downhill from where I was standing, and realized "oh damn, we're on a hill". Valpo has about 50 different hills to go to, each with its own set of street art. I was focused in Cerro Concepción (Conception hill) , so I could easily get to the ports for boat rides after the walking. But we drove up and really should have taken whatever set of stairs exist to get one up the stairs, which have all been converted to art pieces. But expect to walk a LOT in Valpo.
Due to safety, we did a few winds down streets that were safe. Some of the well-known things in the area, like some famous-colored stairs, we had to avoid, because of some "interesting traffic" in that area. It was ok because just about every turn in Valparaiso has art that one can see all over the walls of many buildings. I even walked into a gallery that would not let me go fully in, yet, but let me look from a distance. Valpo is apparently a must-see place for art lovers. I picked up a few pieces to put in my living room, above my coffee table. After the flight of the rich, from Valpo, and after 17 years of a military dictatorship, art started popping up all over the streets. Pinochet plunged the county into decline in 1973, by force, and didn't end until. Suddenly, many of Pinochet's opposition began to disappear, people were kidnapped off of the streets, many of the complaints of the current protests can still be heard about these times. So how do you protest quietly? You do art, like we here in USA know as GRAFFITI. The screens are so oddly turned and twisted, just walked in 1 direction, your neck is going to break if you try to follow the logic of the streets that break off in so many odd directions.
If you're making graffiti, it's perfect to make a statement by art, and disappear into the shadows. Just like Rap music, art grew from many people looking to find a creative outlet from the madness. After the fall of Pinochet, street art was legalized, and the scene began to thrive. Just like in NYC, crews would have art battles for who could do the best pieces, but all friendly though. It brought back a familiar tone for me, back in the 80s of New York City, and I will always have a soft spot for street art, as I was once part of the art scene, myself, in my youth. To know that it came out of struggle and conflict really resonates with me, and I hope that you can also get around to seeing it, under better conditions. It is pretty ironic that the Valparaiso's art scene comes from the struggles under Pinochet, which means that can expect to see some amazing art to come out after these recent protests that swept the country. There is also a silver lining in anything, if you look well enough.
As always, the finished products can be found on the main site of www.drunkphotography.com.