Adirondacks Guide to escape NYC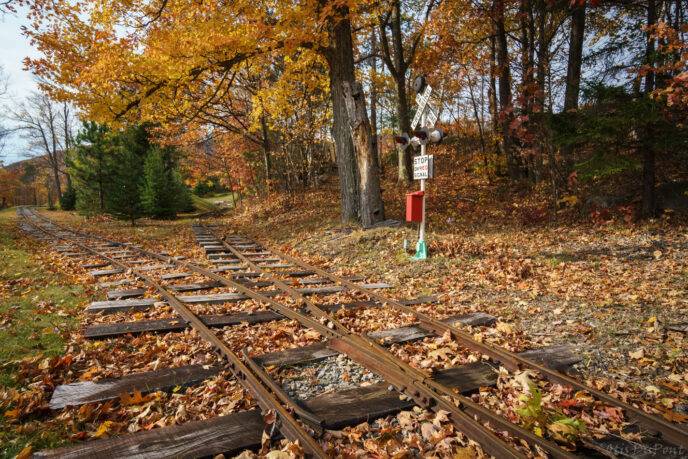 BALL LIKE IT'S FALL!
DrunkPhotography.com's Guide to the Adirondacks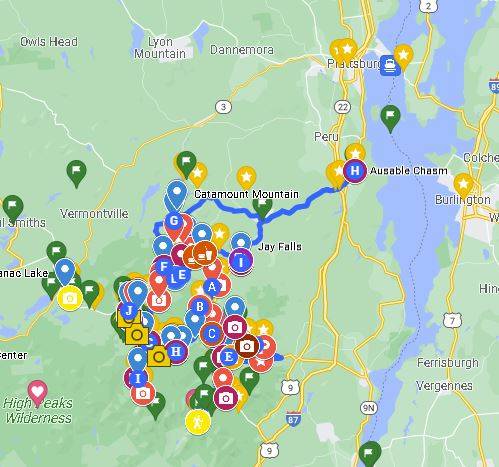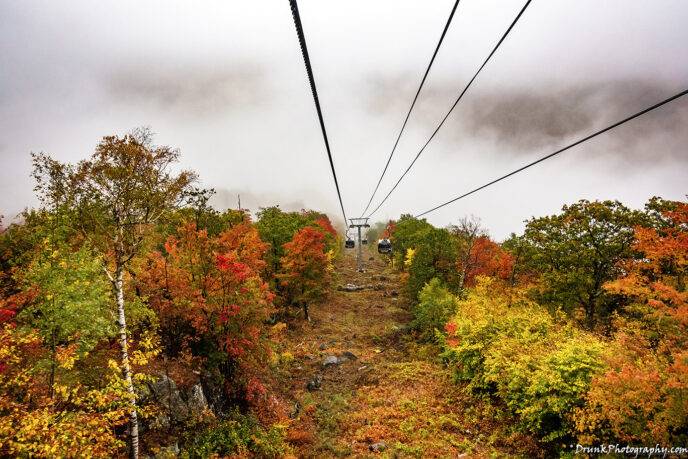 Prerequisites for the Adirondacks trip:
Camera (e.g., 360, DSLR)

Wide angle lens (primary), Telephoto (secondary)
Extra batteries for them
ND Filters for waterfalls spotted
Polarizer lenses for water glare elimination
Tripod

Powerbanks
Multiple GPS devices (GPS gives out a lot and eats up phone battery)

Watches
Handheld
Car GPS systems

Hiking Boots
Jacket (gets cold out of nowhere)
Love for earth
Excellent wing-person and scout for interesting things (can't tell you how much I missed by going alone there).
Ittttttttttttttttttttttttttttttttttttt's TIIIIIIIIIIIIIIIIIIIIIIME!!!!! It's FALL and it's still quarantine time, but there is something much different about this fall, than last fall. Last fall, if one wanted to travel to another state in the USA, if you flew, anyway, you would may have been subjected to PCR tests and told to go quarantine. So, since I wanted to avoid that, I stayed in NY, to frequent the most beautiful aspect of NY, the Adirondack Mountains. Why was it so important to go last year, as opposed to this year? Well, nobody was out on the roads, nobody was traveling, nobody was in the way of the pictures that I wanted to take, nobody was on the trails, NOBODY!!! It was amazing, something I have never experienced even though I've gone up there almost every year, if not every other year. That was such a peaceful trip. I knew that nobody was up there when I did a search for a great hotel, last minute, and I had my pick of just about any room I wanted. At that time, hotels had to put out statements that they cleaned everything, and had Covid protocols in place, most hotels running at half-staff. This year, I took a temperature check on the area and found almost NONE of the placed I like to stay, although operating at nearly full-staff this year, had preferable quarters this year. That means that more people are up in that area now, from the city, which is great for them, but "MEH" for me. I don't want to see other NYC people, they just ruin a great place, acting all NYKER-y. Most people I tell to go there, they complain about how long it will take to get there, immediately. This week, a buddy of mine sent a text "What can I do in the Adirondacks? It's boring?". I looked at this WhatsApp message completely puzzled. For starters, I didn't believe HE would even bother to go that far up (6 hours) to the Adirondacks. The other thing that was shocking was the part "It's boring". It's boring??? Adirondacks are boring??? WTF is this dude talking about, there is a LOT to do!!! Ok, so the problem was clearly that this guy, like many, is lazy and has no idea what he should be doing up there. He took my advice to go leaf peeping, that's what counts through.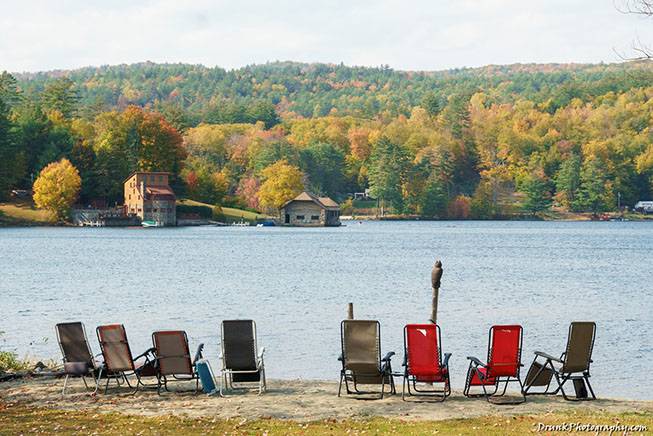 So that is the problem that I'm seeing, people are picking a place to stay, in the Adirondacks, but that's as far as they bother to plan anything else. They have no idea what to do an everyone just goes to North Elba aka Lake Placid, and …. eat food they can eat where they live. SMH. I tell people, this is the "Canadian Rockies without going to Canada" so that means GO OUTSIDE GO EXPLORE!!!!!! Still, I like that many people have contacted me to tell me that they went to the Adirondacks, in the past few years, after seeing some of the pics I shared, in different online locations. That's a great feeling, to get people to get out there and especially now that people are seriously losing their minds downstate in NY. The problem, though, is people were complaining to me that they didn't get to see everything they probably should have, while up there. Many people told me they didn't even know where to start, where to leaf peep, where to find activities to do, how to move around on rainy days. When it rains, downstate people don't' bother to go ANYWHERE. That is terrible. When it rains, you get OUT and see that contrasting sky against the foliage!!! That is the best time, my favorite time, to watch the colors pop out crazy against that grey sky. To me, this is better than blue skies, the attention goes directly to the colored backgrounds and not the skies! Perfect. Other people see a bad day. Nah, change that mentality. So people who went there on those kinds of days, they went there and mostly just stayed in the hotel rooms or went to dine in Lake Placid. That's it. To me, that's crazy, because there is actually too much to do out there, so much that you will not be able to do even a quarter of it in 2 weeks. If that is your situation, yeah you will be mad that you ran out of time. It's just so beautiful. Most of the people that I tell to go up there, are true leaf peepers, like myself, and they want to go upstate to also hike or bike in the Adirondacks. In this case, I tell people to grab a GPS device, DSLR camera, an action cam (e.g., Insta360, GoPro) and GO!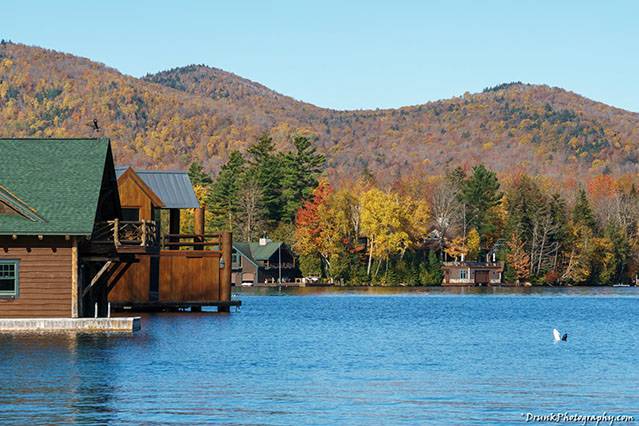 So, another key thing that I should tell anyone who wants to go to the Adirondacks to see the best of the best things, you'll need to travel, and do it very timely, you'll need to do that on foot in many cases. From NYC, that's 6 hours, yes, but you can break that drip up in half and do a bunch of leaf peeping before you even get to Albany, NY (3 hours)! So you can do activities, or eat lunch or something, then do another 3 hours easy! That the first tip, break up those 5-6 hours into nice rest stops and you'll see, it's easy. After you arrive, there are quite a few gems that are hidden here and there, and if you strap on your hiking boots, you will find quite a few gems out there. Many of the hiking destinations will take you 6 hours total (2-3 hours hike each way on foot), to go to the location and back, not to mention the time you will want to spend while you are up there. That's easily half your day that you can spend to experience just 1 location, to see the natural gems and all of the things surrounding the locations, and considering that it will get dark very early up there, you need to get out of those woods by 5pm. There isn't a lot of artificial light in most places there, if it's not in a town, so your butt needs to high step it early. So, that means you will need to try to get to your locations by 8am, to get some of the best pics, avoid crowds, and more importantly, have as much ambient lighting (natural light from Sun) as possible. Let's not forget, YOU NEED FOOD TOO. So, you need to really plan your trips out well if you want to see half of the things there, and lunch can be a bother. Many people did a hike, went to eat, and were WIPED OUT after lunch (2pm). Lol You have to really have a high anticipation and excitement to want to continue to things after eating food, after doing a good 4 hours of walking and sightseeing. So that means many people are going to be dead by 2pm and they've given up when they have 4 more hours to hit another location, while the sun lasted. Most city folks just can't hack it.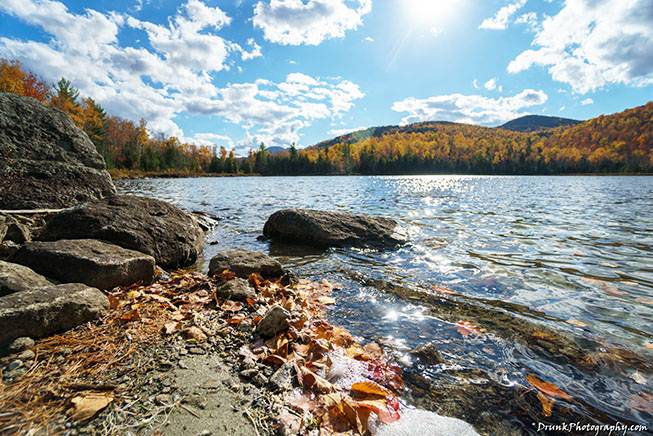 It will take a diehard leaf peeper to be able to see it all, and the thing is you can see a lot of places in the car too, if you don't feel like doing a lot of walking. I have a lot of people, who are over 50, who want to hit the Adirondacks too, but they're not going to do all of that hiking/walking. It's all good, you can get some really good scenic drives in there, just stick your heads out of the car and cruise, baby!!! The problem with that is many people don't know WHERE to drive to take full advantage of that either. I gave groups of people instruction on places to go, the groups of people who drove around everywhere kind of were bored because they didn't know where to drive to see the foliage like they wanted either. You can definitely see the Adirondacks and not have to do much walking, you just need to drive to a location, lay out on the hood of the car, and watch the sun go down, or even star gaze. So here is what we'll do, let's drop a few gems in this piece, DrunkPhotography.com style, to help guide you to see some of the best locations, in the Adirondacks, whether you're on foot or in car. Can't give you ALL of the secrets but I'll show you how to find some great locations to do travel photography and get those foliage shots you need to convince yourself, and others, to break that Pandemic mental depression. This place offers a lot of areas for you to go an unwind at. You can walk for HOURS and either just be alone with your thoughts or take other people to get out of their ghetto ways- keep in mind though, you can take her out of the ghetto… you just can't TAKE her out of the ghetto, many times, so careful with your shot selection here, guys. 🙂 The pic in the inset is Flume Falls, which you can go down into, and walk the trails for miles. There is a packing lot to drive and then you just GO. You will not be disappointed, and this is just by the highway anyway. So if you want to lose some pounds by the holidays, 1 week in this area, on foot, is going to take off some serious pounds, and you will not even realize it until you return home. There are many sites by the highway that you simply have to walk to, bike to or simply drive/park and then walk to. See my Google Map below for more details.
View Hacks
Of all of the things on this map, here are a couple of things I want to highlight for you, so that YOU can make the most of your stay and get some better angles for your photographs. It's fall, you're there to see foliage, and you're shorter than all fo the trees, right? So take it to the air and get above the trees!
1. Adirondacks Lake Placid Olympic Ski Jumping Complex
You want to get elevation to some of the better shots, but some people may not want to hike to the best locations in order to see the landscape. So there are a few options to go up. Head up to the former Lake Placid Olympic Ski Jumping Complex, the 2 time site of the Winter Olympics (1932 and 1980) up here in the Adirondacks. You can drive to the location and then take an elevator up to the observation deck, minimal effort. There, you will get a 360 view of North Elba, New York. You'll need to poke through some fencing in some places, that will block your wide angle lenses. Otherwise, it's just a great unobstructed view over the landscape.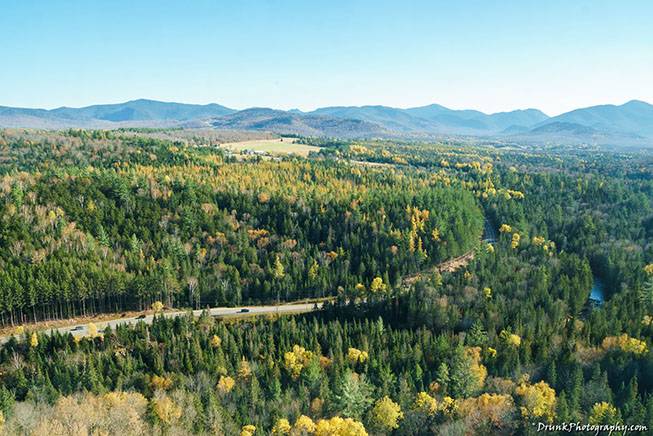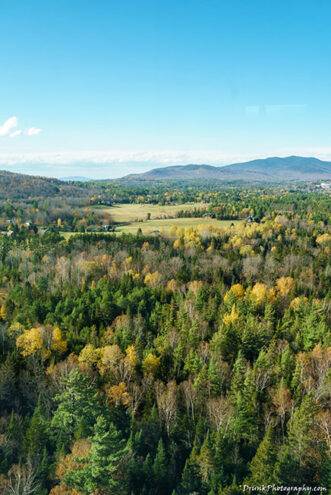 2. Find the Adirondack Flying Services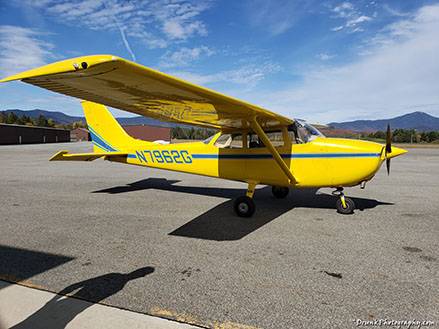 That gives you a great view over the land and towards the mountains, but you can also travel around and between the mountains, where the cars won't go. In the middle of North Elba, you can find a small airport where there are planes that will take you for a 1 of 2 separate flight paths around and through the mountains. If you do this during mid-peak foliage, you will see some amazing and dazzling colors here and there. Your time will need to be right, when you make it to this area, if you want to see the colors. You saw the colors from the Lake Placid Olympic Ski Jumping Complex view, well that was mid October but colors did not change yet. If you go to that area and you do see the foliage, then just up the street is the airport and you should then book your flight to continue the aerial views. Be warned through, small craft planes are very sensitive to pressure when you're up in the air and you will feel wind gusts knock you around. It does not feel like a commercial flying plane at all. It will make most people feel like they have to vomit. Even I felt like I was going to throw up all over the place, in a couple of pockets of air that knocked me around a bit. Just have to sit back and BREATH until your body calms and you stop tasting your gastric juice shoot up our esophagus. Sounds gross? FEELS and TASTES gross too.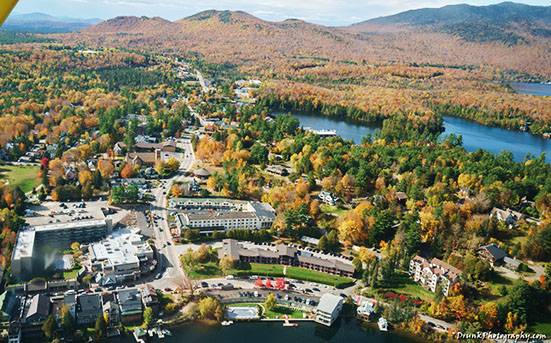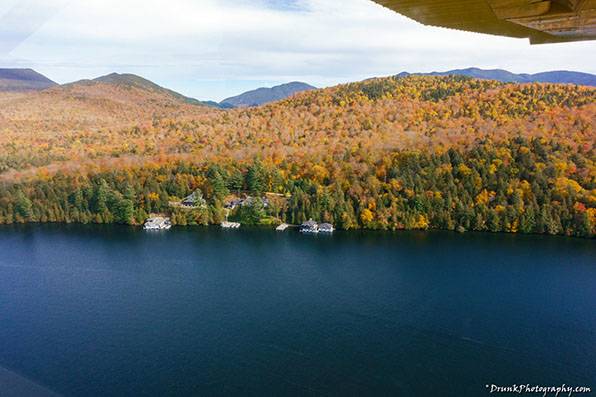 3. Ascend the Whiteface Mountains
From the plane, you can normally spot the Whiteface Mountain, the most famous in the Adirondacks. It's where the most skiing happens, during Winter time in the Adirondacks. You'll want to make the drive to the gondolas and take the ski-lifts up to the top, enjoying the beautiful foliage left and right. You'll notice the mountain when you see it, trust me.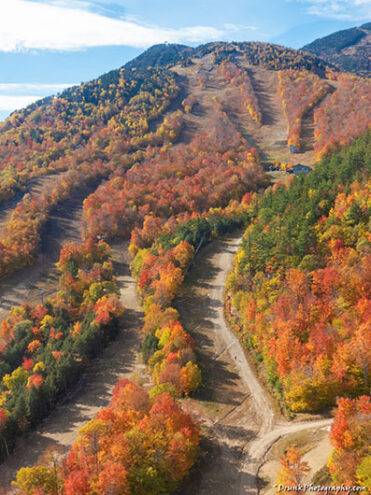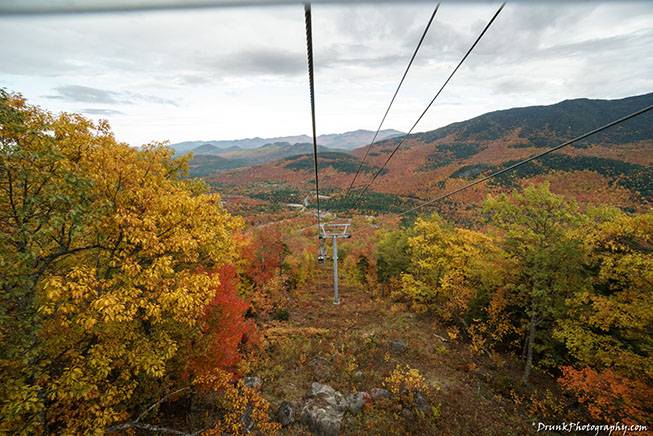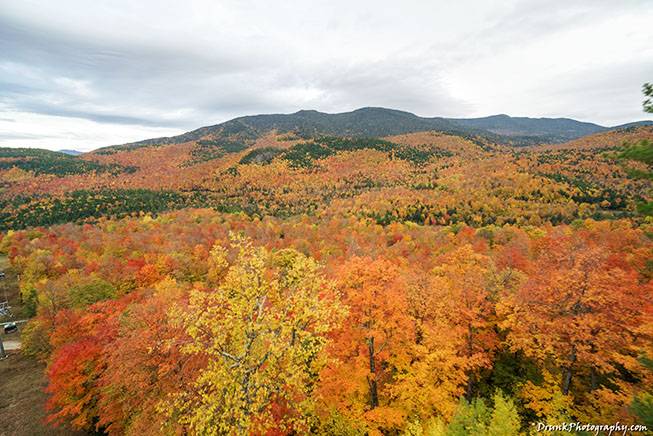 You can also bike this area, you can hike it and you can drive behind it on Veterans Memorial Highway. Here is a drive up behind the mountain, which offers and equally great view. Pan around the youtube video it is 360 enabled!
4. Drone use???
You need to beware if you use a drone anywhere in New York. If you take that drone out and start flying that out and about, you are potentially breaking the law! Yes, drone flying is not legal unless you have a form of commercial or recreational license. It's easy to pass the test for recreation, but you need to understand that drones means you are flying into air space that planes are flying in as well. If you threaten the flight paths of planes, some locals are bored so want to Karen/Ken you, or someone feels you're violating the space of their property, cops are getting called on you! So, I'm warning you. I've know, and have seen, people getting handled by cops and locals over inappropriate drone use, but the people getting messed with tended to be of a certain "shade", while the people I've seen come back with many hours of videos/ pictures, yet also have no license to fly drones, were of another shade. Yeah, there is a lot of that in play, and I have a Maverick that was gifted to me, and refuse to fly it for this reason. So, you're taking a chance if you use it, but if you do have your license, THIS is the place to use it. But remember, I put you on to point #2 here, there is an airport there and it's highly important you don't play games in that particular area. Go more west, you'll have less people around and less chance for cops to be called on you. Take and pass your TRUST certification!
5. Peek for Peaks!
Speaking of PEEKs, you really must check the fall foliage maps to make sure you're not going too early or too late, or you'll waste a trip. Most times it is accurate for the locations listed but you can get this particular area and find that there are whole areas that have not changed yet, and then you go 2 miles away and see another area that has completely changed its colors. Weather, as of late, is hit or miss in NY. So before you even bother to go, you should check one of the update sites on foliage like this. This site will tell you in each area what the changes are like, which is why I like it. As of the time of this piece, Lake Placid is at 75 percent changed. On the ground, I've already highlighted several locations on Drunkphotography.com previously, so feel free to check them out in the links below, for more ideas:
At the Whiteface Mountains, you can get crazy views leads up to a parking lot, and then even better view if you ascend some stairs to the very top, where there is an observation area. You will NOT want to miss this. It is better than the one you see when you use the gondolas to ascend the adjacent mountain. Take that Veterans Memorial Highway route I mapped, and look out NORTH as you drive. That is a spectacular view. The youtube clip I added, that's the view. It can get cold up there, and you're seeing frost/ice in first week of OCTOBER, in that video above.
If you take a tiny camera with you and you do zip lining, they'll drive you up a mountain, in an area, and you'll be ziplining through all of that foliage. You'll have many views of the area around you.
Look for the objects I've marked as the "Fire towers" (e.g., Mount Arab, Hurricane Mountain). These are the lookout stations that are used to spot forest fires but you can go there, they're accessible to the public too, and are un-manned. The trick here is that the lookout towers have to be taller than the views around, which means for you, you have the best view possible in these locations because you see out over all of the land! The only thing about it is you will need to hike to ALL of them. What I suggest you do is download the ALL TRAILS application, and type in the details for the hike, and see if you can manage that hike or not. If you have a Garmin wearable, this is your thing! For Hurricane mountain, I mapped where you can cheat a little and drive to the parking lot, then do a short walk.
Sunsets are a major challenge because the mountains are in the way, and I told you, you will lose light really quickly and then you can't see a damn thing walking or even when driving on the highway. What I like to do is head out to Saranac or Tupper Lakes where things start to flatten out to water backdrops with the sun. That is MAGICAL and romantic, if you time it. Also, when the moon comes out, that is crazy as that's the only thing lighting the area. If you are into that, download PHOTO PILLS to your phone and track the exactly position the moon and sun will be, so you can set up your shots from the angles you want.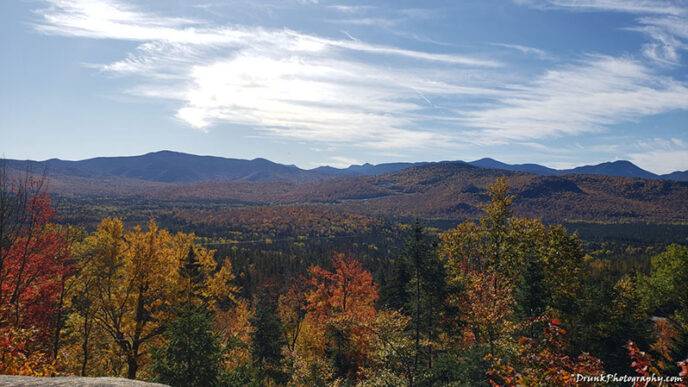 Making your way to the east, you'll find a location called Ausable Chasm. This is a chasm that you can go down into, walk multiple paths along side it, do some adventure activities to get a good workout, and you can even end your short walks with a raft float at the end.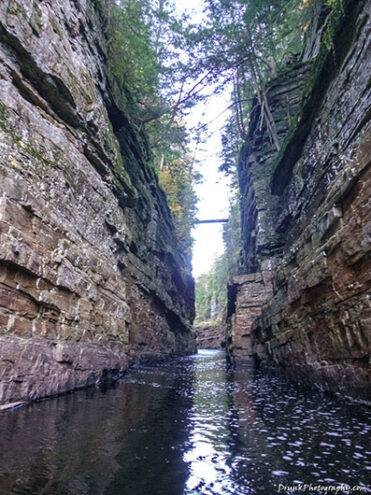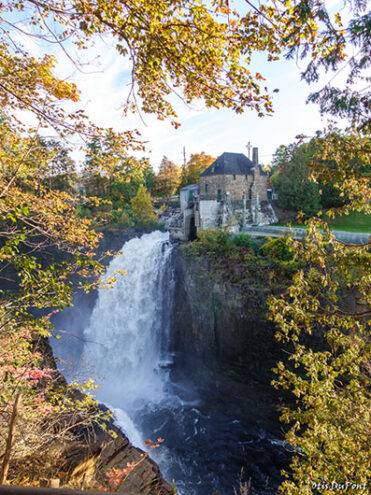 There is a bridge, that you'll want to cross for a beautiful shot of the waterfalls. Don't leave that place without getting some snaps of it.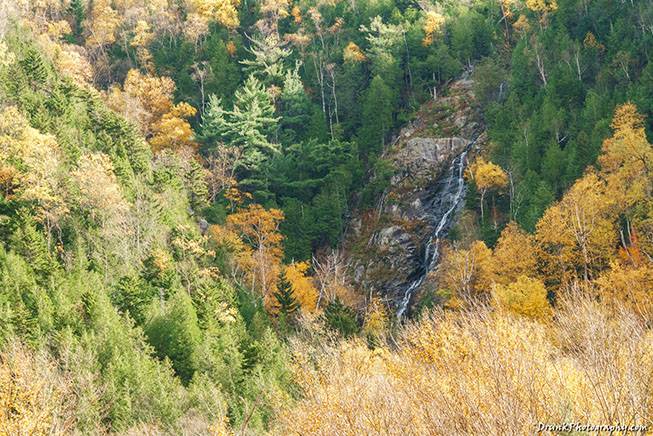 So as you can visibly tell, there is PLENTY to do in the Adirondacks. You only need to look left and right and you can trip over great scenery. I gave you like 10 things to do right there, from a photographic standpoint, an exercise point of view, a low-exercise point of view. It is all there for all audiences. You just have to GET THERE and look left and right and there is beauty. If you love to ride bikes, you can do it up and down mountains or you can do it cross-state from the byway you will see in the map I created. There is absolutely something for everyone and people need to just stop being lazy and get to plotting. You can even take a train up there, instead of driving the whole way, and then rent a car while over there, or just rent a bike and do all of this stuff. Any direction you step you can see interesting and weird things. If you're like into Halloween, you'll see a lot of decorations and also some buildings that looks freaking creepy in the right light, when it's like sunset or on a rainy day. You really just have to keep your eyes peeled when you take the scenic drives I outlined.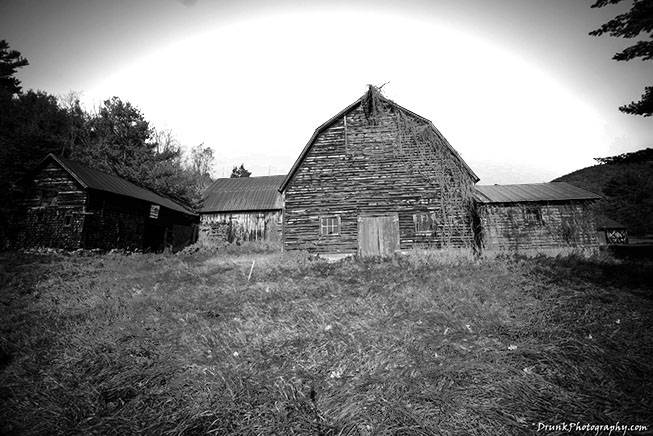 Download and use my Adirondacks Google Map Guide
This guide will highlight more than a few things you should hit, if you want to get some good shots, get a good workout, spend time alone, time with the family, see great nature like never known in New York. You will also find a few scenic drives I've outlined for you to take, which will have crazy beauty in all directions. What I like to do is mount the 360 camera, or hold it out of the window with a selfie stick, and capture the drive. It's really fun to relive the moments, playing it back and being able to look in all directions afterwards. So I recommend you do the scenic drives I've outlined in the map. Now, let's get you that map:
Step 1: To begin, view the Drunkphotography's Guide to the Adirondacks Google Map (below). Unfortunately, Google is the killer of useful products they make, and they have killed off yet another highly useful Google tool used to plot trips, Google MAPS Bookmarks.
Why is this important? You could export all of the locations that you saved as a Google Bookmark, which you do day to day when you use Google Maps. However, there is an alternative method to getting GPS locations out of it, and into your other trusted GPS mapping devices, whether handheld, wearable or car-installed device. In my case, it's Garmin gear.
Step 2: At this point, you can take over my MAP by adding it to your own Google MY MAPS and now you can start to plot your own daily trips in the Adirondacks, between points I've already outlined for you.
Step 3:  Regardless of Google screwing the Maps Bookmarks up, you can save this map to your MY MAPS and export the points to a KMZ / KML file, which you will give you GPS coordinates that you can simply import into your Garmin or other trip planning tool. You can stay with Google Maps too, if that's your thing. Learn how to export your map coordinates out of Google Maps. You'll also want to make a copy of this map for offline, which you can do on your phone. Download the local copy of the map to the phone, and if you lose GPS, you can still navigate with voodoo on this copy. GPS will give up a lot out there!!!
As always, the finished products from this outing can be found on the main site of www.drunkphotography.com.